The artist is Caravak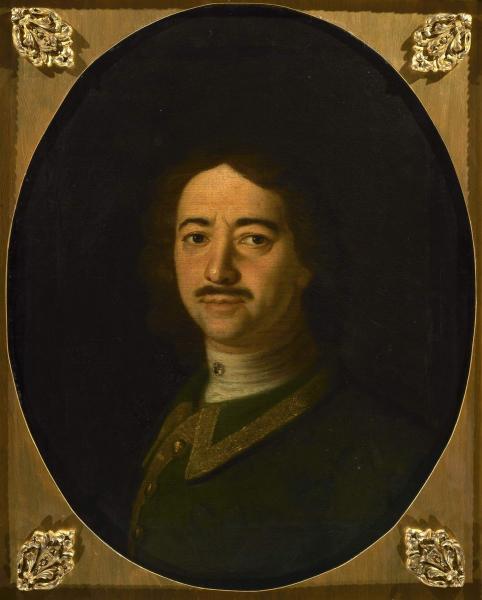 Peter I the Great (Petr Alekseevich; May 30 / June 9, 1672, Moscow − January 28 /8 February, 1725, St. Petersburg) − The last king of all Rus' from the Romanov dynasty (from 1682) and the first Emperor All -Russian (since 1721). He was the fourteenth child of Tsar Alexei Mikhailovich, but the first from the second wife, Queen Natalia Kirillovna (nee Naryshkina). The first of the Russian kings in 1698 began large -scale reforms of the Russian state and public way. Reigned from April 27 / May 7, 1682 to January 28 / February 8, 1725.
The 400th anniversary of the Romanov house. SPb, 2013. WITH. 112.
Peter I (1672 – 1725) is the youngest son of Tsar Alexei Mikhailovich and his second wife Natalia Kirillovna Naryshkina. In 1682, after the death of the older brother Fedor, he inherited the Tsarist throne with his brother Ivan. Since 1689, it has been ruled uncertainly. Since 1721 – the first Russian emperor.
Depicted in the uniform of the Bombardier company of the Life Guards of the Preobrazhensky Regiment. In the cat. 1980 – Nikitin and. N. (?). Was in the Catherine Palace in Tsarskoye Selo. In 1773, Catherine II handed it to the sculptor E.-M. Falcone for working on the monument to Peter I. Falcone, leaving for the Hague, took with him a portrait, which, after his death in Paris in 1791, moved to his daughter -in -law Marie Ann Collo (the estate of Marimont near Nansi, France), then to her daughter Baroness Yankovich. In 1866, according to the will, the last portrait was transferred to the Gatchinsky Palace, from where he moved to the timing in 1925 (Weinberg 1971, with. 229-237). In the Gatchina Palace in the second half of the XIX in. The portrait was attributed to Caravaku (?) (Weinberg 1971) or Nikitin (Rovinsky. Portraits, t. 4, STB 279), in the Russian Museum – Nikitin. N. M. Molieva and e. M. Belutin was considered a portrait of the unconditional work of Ivan Nikitin and associated him with a record of the artist of the portrait of Peter I in 1721 "On Kotlin Island" (Molieva, Belyutin 1965, with. 45-47). A. L. Weinberg considered the portrait to work l. Caravaka on the basis of a picturesque manner and iconographic similarity of the type of Peter I with engraving p. Subeiran (1743) from the original Caravak (1723). Weinberg suggested that this is the portrait that Caravak wrote from Peter I in 1722 in Astrakhan (Weinberg 1971). WITH. IN. Rimskaya-Korsakova on the basis of technological analysis also confirms the authorship of L. Caravaka.