The artist is lactions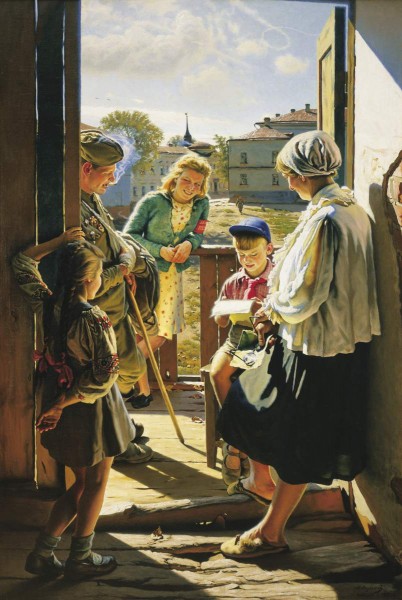 Alexander Ivanovich Laktionov – a well -known Soviet painter, a graph, a significant master of portrait and genre painting, a convinced realist. The Laureate of the Stalin Prize and the People's Artist of the RSFSR, Lactions during the Great Patriotic War were evacuated in Samarkand, where students of the Institute of Painting, Sculpture and Architecture named after. E. Repin. In 1944, the artist and his family moved to Zagorsk (Sergiev-Posad), where three years later he will write, perhaps, one of the most famous genre paintings of the post-war period-"Letter from the Front", which will receive a state prize of the first degree a year later.
The first post -war decade is the time when the people exhausted by the war dreaming of rest, passionately wishing peace, silence and joy of a simple life "on peaceful fields". The window in such a radiant world is opened by Alexander Laktionov. The demand for the peaceful and human image of the post -war life predicted the popularity of the picture. "Letter from the Front", written in 1947, was extremely successful with the audience, the canvas participated in numerous exhibitions, was constantly printed in periodicals, calendars and school textbooks. The composition, color and life -affirming intonation made the picture a symbol of joyful hopes, long -awaited news from the front. In this idyll, children are healthy and well -fed, mothers and sisters are blush and cheerful, and the wounded fighters are recovering. Everyone wishes such a life, but, alas, not all find.
E.B. Mogilevsky, c.M. Akhunov. Materials for audio guide at the exhibition "Memory" for the IZI platform.Travel. 2020