The artist is Nikonov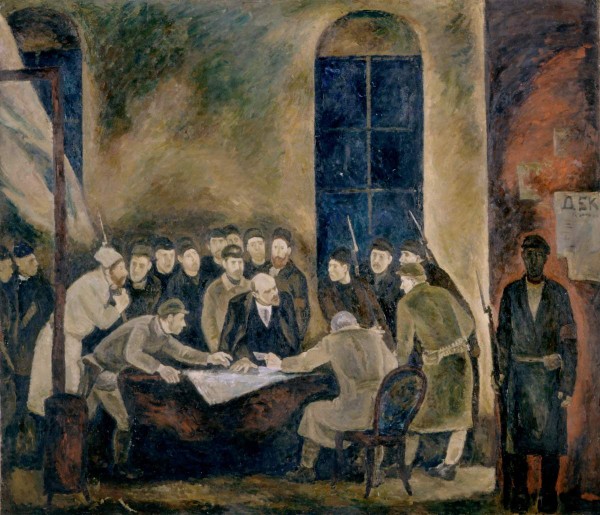 Nikonov is one of the main representatives of the "harsh style" born of the era "thaw". In his work, the desire for the showing of unnecessary life realities is combined with the search for a new visual language, dating back to its laconicism and monumentality to a wide circle of predecessors – from masters of the "tubercular jack" to a. A. Deineki.
In the film "Smolny – the Headquarters of October", a new interpretation of the October events, different from the one that the canvases of the Stalin era, was reflected. This was due to the Khrushchev campaign to return to the "Leninist norms of life", which further strengthened the cult of Lenin. Now the leader, delivered from the environment of the consistently discredited figures of Trotsky and Stalin, remained the only head of the revolutionary headquarters. In the most decisive minutes, he was not surrounded by the closest associates, but by representatives of the rebellious people, participants in combat squads who are waiting for his fateful instructions. The figure of a soldier, reminiscent of ordinary Ivan Shadrin, – a character of a cult film from the left part of the picture. AND. Yutkevich "Man with a gun". (P. TO., A. N.)
Electronic catalog "Heroes and villains of Russian history". SPb, 2010. WITH. 364.