The artist is Bubnov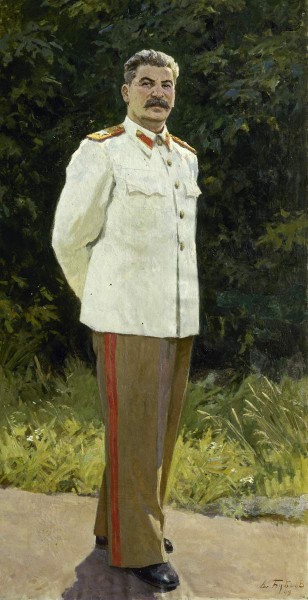 Bubnov worked with constant success in various genres: historical, domestic, portrait. In the late 1940s, he created a series of portraits of political figures of the Soviet state, including several portraits of Stalin. In the portrait of 1949, Bubnov builds a monumental and, at the same time, an informal image of the Generalissimus, standing in a laid -back, natural position in an inherent in his late creativity. Stalin is depicted in Marshal's white tunic and trousers with stripes – a form established by 1943, when he was awarded the title of Marshal. (T. H.) Electronic catalog "Heroes and villains of Russian history". SPb, 2010. WITH. 482.
Stalin (Dzhugashvili) Joseph Vissarionovich (1879–1953) – one of the leading figures of the Communist Party and the Soviet state. Member of the Politburo of the All -Union Communist Party of Bolsheviks (b) (1919–1952), Secretary General of the CPSU Central Committee (1922–1953), member of the Presidium of the Central Committee of the CPSU (1952–1953), chairman of the Council of People's Commissars (1941–1953). Hero of Socialist Labor (1939), Hero of the Soviet Union (1945), Marshal of the Soviet Union (1943), Generalissimo of the Soviet Union (1945).
For the happiness of the people. Catalog of the exhibition of the Russian Museum in Malaga. 2018. WITH. 73.