The artist is silver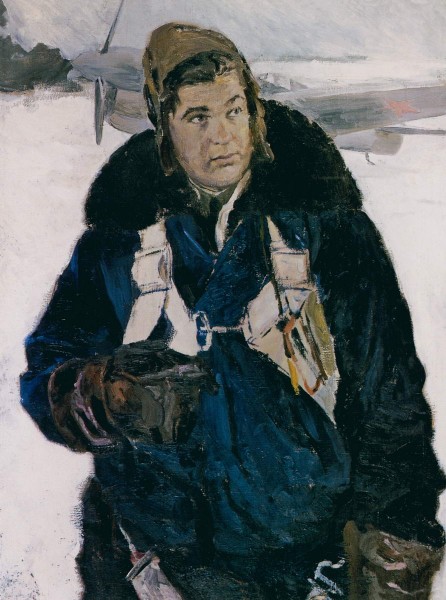 Ilya Minovich Shishkan (1918-1943) – pilot, participant in the Great Patriotic War, Hero of the Soviet Union (1943).
"In air battles on the Leningrad Front, a young 22-year-old fighter Ilya Shishkan acquired professional maturity and glory. During the Great Patriotic War, he made more than 400 sorties, 36 times he flew to the rear of the Germans. Participated in almost 100 air fights with an enemy, shot down 16 German aircraft. Once, 18 bombers who carried their deadly cargo, and 12 fighters with black crosses, covered them as a Leningrad. Our five "Hawks", which Ilya Shishkan led, boldly flew towards 30 fascist aircraft. The inequality of forces did not bother the hero. Shishkan was the first to attacked the Germans' head car and knocked it down, and soon the second aircraft of the enemy collapsed. "German prudence" prevailed: 28 fascist aircraft did not dare to continue the fight with 5 red -free fighters and preferred flight from the air battlefield… Once, only in 3 days of battles, Ilya Shishkan shot down 3 enemy vehicles personally, and 3 as part of his brave group"… (From the album of portraits and essays – "Heroes of the Soviet Union of the Leningrad Front".)
By a decree of the Presidium of the Supreme Soviet of the USSR dated January 28, 1943, for the "exemplary implementation of the combat missions of the command at the front and the courage and heroism shown", Senior Lieutenant Ilya Shishkan was awarded the high title of Hero of the Soviet Union with the award of the Order of Lenin and the Golden Star medal
June 21, 1943 his plane was shot down by the enemy. He left a burning aircraft with a parachute that was badly damaged. When landing, he received a fracture of both legs and spine. Half an hour later he died of injured injuries. He was buried in a fraternal cemetery in the city of Vsevolozhsk Leningrad region.
Read more