The artist – cats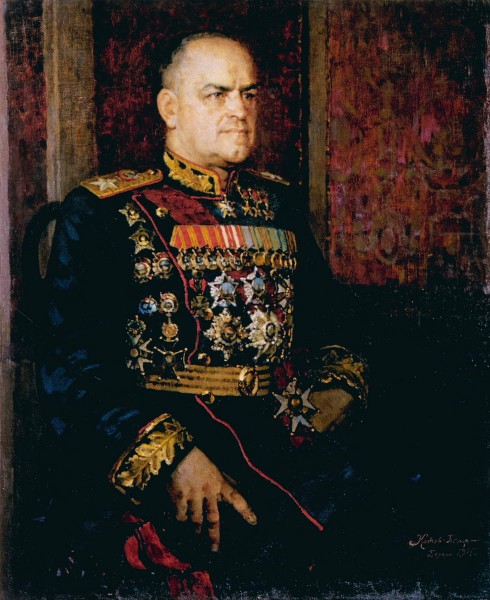 Zhukov Georgy Konstantinovich (1896–1974) – Soviet military leader, Marshal of the Soviet Union (1943), four times Hero of the Soviet Union (1939, 1944, 1945, 1956). Deputy People's Commissar of Defense of the USSR and Deputy Supreme Commander (since 1942). The Commander -in -Chief of the Group of Soviet Troops in Germany and the Commander -in -Chief of the Soviet Administration (1945-1946). Hero of the Mongol People's Republic.
The artist wrote a portrait of an outstanding commander in the period when g. TO. Zhukov was the commander in chief of the Soviet troops and the head of the Soviet military administration in Germany. At the same time and n. D. Korin wrote a well -known portrait of Marshal, located in the State Tretyakov Gallery. Unlike the Korin, generalized by decision of the portrait, the work of Kotov represents a specific image that is a kind of artistic document. Work p. AND. Kotova was exhibited at many exhibitions, in particular at a large exhibition at the Central Museum of the Great Patriotic War dedicated to the 55th anniversary of Victory. Unfortunately, the literature does not say anything about the circumstances of the creation of a portrait of g. TO. Zhukov. Perhaps this is due to the fact that since March 1946 the illustrious marshal fell in disgrace and was removed from the post of Deputy Minister of the Armed Forces of the USSR and the commander in chief of the Odessa Ground Forces, and two years later – the Ural Military District. (A. D.).
Russian portrait. XX century: St. Petersburg, 2001. WITH. 278.