The artist is Burliuk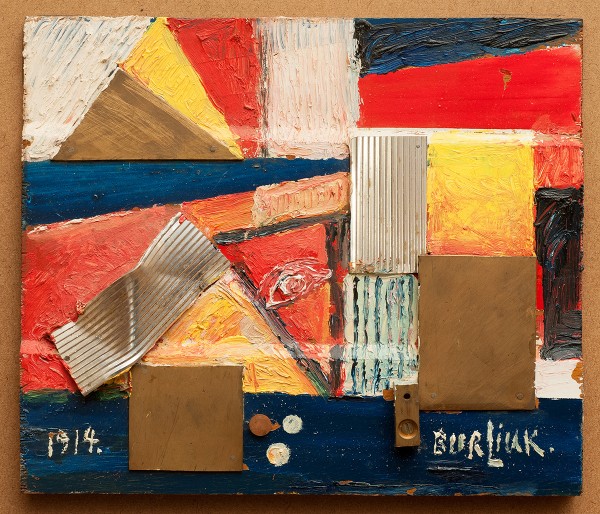 Interest in the expressive capabilities of the picturesque surface consistently led innovation artists to experiments with various materials: clippings from newspapers, household items and other. Sometimes such collages were imbued with irony, humor (such as, for example, exhibiting at the 1915 exhibition, a shirt with a washcloth, the inscription under which it read: "Burliuk in the bath"), sometimes it could be purely indiscriminate compositions. David Burliuk gave tribute to the general hobby of collages in the mid-1910s. However, a real collage, dated by the artist himself in 1914, by the time of creation, like many others, belongs to the American period of Burliuk's work and is a kind of author's replica of his early works.
Burliuk, as the avant -garde follows, is obsessed with the idea of ​​destroying the order of visible. One way of such destruction is a collage or, as it is also called in art criticism, assembly. The collage is genetically associated with synthetic cubism and dadaist experiments. He coats completely heterogeneous objects in order to identify their color, textured and plastic distinctive qualities. In such material selection, picturesque planes may well be adjacent to Radie Mad with elements borrowed from everyday household. An arbitrary combination of objects into assembly deprives them of their usual qualities and meanings – things torn from context hang things in the autonomous space of pure visibility. Its metaphor is the image of the eye in the center of the collage – this is the very released lonely eye of Burliuk – the organ of detection of plastic shifts and disco constructions in what we see, but do not notice.