The artist is Zhilinsky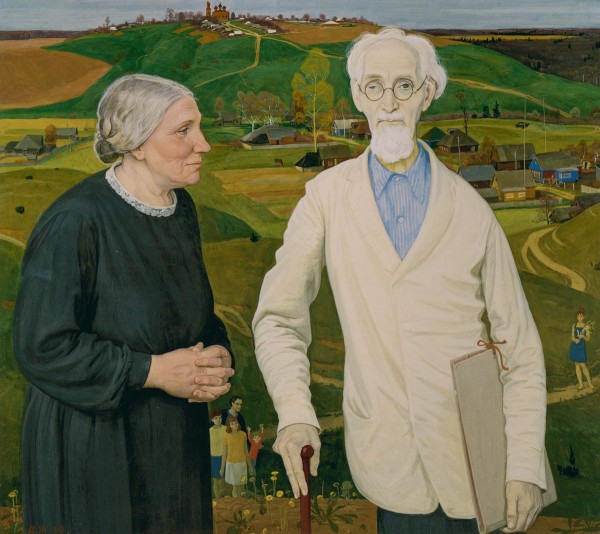 About spiritual and earthly, the merger of man with nature, different generations – a picture that captured one of the artist teachers at the Surikov Institute – Nikolai Mikhailovich Chernyshev and his wife Antonin Alexandrovna. "Both of them love Russia, its customs, nature, art". Zhilinsky writes with special care of portraits of these who have lived a long joint life of people. "He is narrow, bright – the embodiment of the spirit; She is wide, calm, beautiful – his support ". The image and statements of the artist are expressive. The main figures, behind which young people are looking through, as if they are gone into a slowly unfolding panorama with thin birches, houses, green hills, distant church – all that is so dear to the heroes of the artist. (A. D.). Russian portrait. XX century: St. Petersburg, 2001. WITH. 294.
Chernyshev Nikolay Mikhailovich (1885–1973) – artist, his wife Chernysheva Antonina Alexandrovna (genus. 1912). Russian portrait. XX century: St. Petersburg, 2001. WITH. 294.
The artist n.M. Chernyshev with his wife.
Chernyshev Nikolay Mikhailovich (1885, village of Nikolskoye Tambov province (now Voronezh region) – 1973, Moscow). Painter, graphic, monumentalist; art theorist; teacher. He studied at Mucvz (1901–1911) at n. A. Kasatkina, a. E. Arkhipova, c. A. Serova, K. A. Korovina; at VHU at the IAX in St. Petersburg (1911–1915) at d. AND. Kiplik, c. IN. MATE; at the Academy of the river. Julien in Paris (1910). Served in the army (1916–1917, the Romanian front). He taught at schools in Moscow (1909–1911), at the school of military disguise (1919–1921), at the Art School of Printing of the People's Commissariat of Education at the first exemplary printing house (1920s), in Vhutemas-Vkhutein (1920–1930), at the MNHS) (1936–1949), IZHSA (1942–1944, in evacuation in Samarkand). Member of the associations: "Moscow Salon "(1911–1921), "World of Art "(1921), "Art-Life "(1921, founder member), "Makovets "(1922–1926), OMH (1928–1929). I studied a lot of graphics. Participated in the publication of lithographs albums (1920–1921). He collaborated in magazines: "Milky Way "(1914–1916), "Makovets "(1922). Participant of exhibitions since 1910. Researcher, then Corresponding Member of the Gahn (1927–1930). In the 1950-1960s he was engaged in mainly monumental painting. People's Artist of the RSFSR (1970). Lived and worked in Moscow.