The artist is Reshetnikov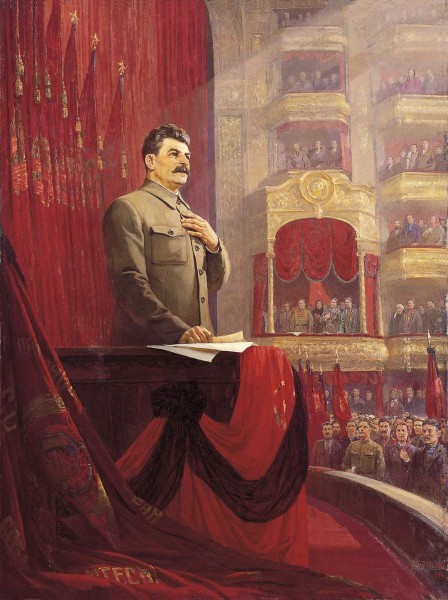 Stalin (Dzhugashvili) Joseph Vissarionovich (1879–1953) – one of the leading figures of the Communist Party and the Soviet state. Member of the Politburo of the All -Union Communist Party of Bolsheviks (b) (1919–1952), Secretary General of the CPSU Central Committee (1922–1953), member of the Presidium of the Central Committee of the CPSU (1952–1953), chairman of the Council of People's Commissars (1941–1953). Hero of Socialist Labor (1939), Hero of the Soviet Union (1945), Marshal of the Soviet Union (1943), Generalissimo of the Soviet Union (1945).
Reshetnikov's painting was first shown at the exhibition "Joseph Vissarionovich Stalin in the visual arts". An appeal to such a plot – the continuity of Stalin's ideas to the ideas of Lenin – is very characteristic of "Soviet myth -making", when the myth often gained the meaning of a historical source. In this case, the event took place in reality.
The II Congress of Soviets of the USSR was held on January 26–31, 1924 at the Bolshoi Theater in Moscow. The congress is famous for the fact that the Constitution of the USSR was adopted on it. He performed at the congress and. IN. Stalin with a report on death in. AND. Lenin, this report went down in history as "the oath of the leader". It is from this event that the formation of a personality cult begins, and, of course, it is no coincidence that in 1949 this fact of Stalin's biography is embodied in such a grandiose canvas. Proclaiming himself a successor in. AND. Lenin, contrary to his political testament of 1922, which in itself was already blasphemous, Stalin tried to consolidate his right to this title by any means. And just as in the 1920-1930s it was implemented in life, so in 1940s this right is realized in art. Solemn color, golden radiance of "pouring from heaven" of light rays, the opposition of a towering figure in the background contribute to the transfer of the exclusivity and monumental greatness of the image of a person, in life not distinguished by any growth, nor athletic figure, nor beauty.
For the happiness of the people. Catalog of the exhibition of the Russian Museum in Malaga. 2018. WITH. 73, 78.